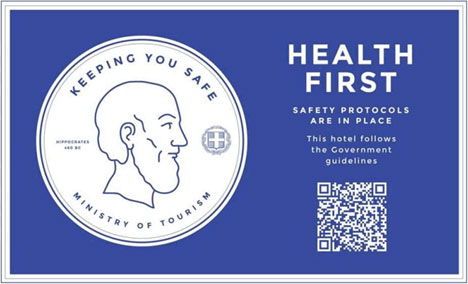 COVID-19 Update
Thank you for considering or choosing Venus Beach Hotel Bungalows for your vacation!
In this time of uncertainty with the progression of the COVID-19 outbreak, Venus Beach Hotel assures you that your safety and comfort remain our highest priority. Our thoughts are with those who are affected by this virus and those who are caring for them.
We Clean. We Care. We Welcome.
We have stepped up precautionary measures according to the Greek Ministry of Health as the safety of our guests and employees is paramount to us. We take the utmost care to ensure every stay with us is safe, clean and comfortable.
We clean our hotel to ensure safety and comfort for our guests. Our measures include:
All our staff follow strict guidelines, including utilizing personal protective equipment, frequent and stringent hand-washing protocols, and are provided with personal protective equipment (masks, gloves, face shields, waterproof aprons, etc.).
Regular training of our employees ensuring proper hand hygiene and awareness of COVID-19. This is vital to help combat the spread of viruses and the health of our employees and guests.
RECEPTION
Antiseptic devices at the disposal of every guest in the reception desk.
Infrared thermometers available at front desk to conduct temperature checks of our guests and employees upon request, in certain jurisdictions and subject to availability.
Room keys are disinfected before being delivered to the guests.
Avoid overcrowding during check-in / check-out - keeping distances according to the signs which will be disposed on the floor.
For dealing with COVID-19, the hotel reserves the right to request from visitors additional documents certifying their identity, their travel schedule or other relevant information under the General Data Personal Regulation (GDPR).
If a visitor presents symptoms compatible with the Covid-19 infection, then the hotel's action plan for dealing with it, is activated and always in accordance with the strict instructions of NOPH.
HOUSEKEEPING
Rigorous cleaning and sanitisation of guest rooms. Careful disinfection takes place after every departure and before every new arrival.
Check out 12.00am – Check in 15.00 pm, is changed to offer the appropriate time for the room disinfection prior to each arrival.
The change of linen and towels is done every 3 days according to the recommendations of National Organization of Public Health.
 Frequent sanitisation of high-contact points, such as door handles, reception counters and bathrooms. Linen and towels are washed above 70 degrees
Hand sanitisers. is provided at all facilities
RESTAURANT
Mandatory hand disinfection at the entrance of the restaurant.
Partial division of customers' entrance for a safe function of the restaurant and the avoidance of overcrowding.
Maintenance of distances by delimiting the interior and exterior of the table seats with a safety distance of 0.70 cm, according to the instructions of National Organization of Public Health.
The central restaurant buffet is served exclusively by kitchen staff. 
The breakfast is open from 07.00 to 10.00 
our dinner is open from 19.00 to 22.00
Tavern Lefka a la cart is open from 13.00 - 17.00 & 19.30 - 22.00
POOL
The pool water is cleaned regularly during the day by the electrolysis method.
The PH is checked every 4 hours
Sunbeds and umbrellas are placed safe distances according to the policies.
Keeping safety by delimiting umbrellas and sunbeds at a distance. The minimum distance between the sunbeds on different umbrellas according to the instructions of NOPH is set at 1.5m
MASSAGE
A massage service is available, in a controlled area with a gazebo and on appointment.
We care for our guests and employees by introducing additional measures to safeguard their wellbeing. Our employees have been briefed on the guidelines provided by the World Health Organization and local health authorities. They are ready to render assistance to any guest that may feel unwell.
We conduct daily meetings with our employees to review any relevant situation. Venus Beach Hotel in constant communication with the relevant health and travel authorities to keep our guests and employees updated and to advise them on appropriate measures to observe.
We welcome our guests into our hotel with the same warmth and hospitality we have always done. While the COVID-19 outbreak is a precipitously changing and fluid situation, we are committed to keeping you informed and to care for you as a valued Venus Beach Hotel guest.
Our hotel looks forward to welcoming you.
With Warmth Regards,
Venus Beach Hotel Team